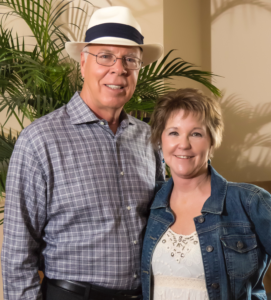 Following high school, Lee joined the U.S. Navy. After three tours in Vietnam as a Hospital Corpsman, he continued serving in the naval reserves, retiring after 28 years, as a Senior Chief Petty Officer. Lee graduated from the University of Nebraska-Lincoln. After 16 years in hospital administration, he founded an insurance/retirement planning business, then retired (again) to serve together in a full-time missions ministry.
Lauren's ministerial focus is on teaching, evangelizing and sharing God's healing love. She received a Bachelor of Ministry Degree in Christian Counseling, completed her Masters Degree and is currently finishing her doctoral degree thesis in Christian Counseling. She has been equipping believers through pastoring, counseling and missions for over a decade.
They both dedicated their lives to Jesus Christ in August, 1997. Lauren and Lee were ordained in 2005, after completing bible school training in Tulsa, OK. They are the founders of Knowing Him Ministry, a not-for-profit corporation. Being project-driven, over 95% of donations received have been used directly for ministry related projects. They have been traveling and ministering for over 17 years in Cuba, Mexico, Colombia, Panama, the San Blas Islands, Honduras, the United States and Ecuador, inviting and praying with over 13,000 individuals to have a personal relationship with Jesus Christ. The Ministry headquarters was recently relocated to Branson West from Cuenca, Ecuador.
Lauren and Lee served as the Senior Pastors of Misión Palabra de Vida Church in Cuenca, Ecuador for over five years. Lauren served as the past president of the national organization there. They currently serve as National Directors, Ecuador for the International Convention of Faith Ministries, and assist at the international level.
From 2011 through 2016 Lee's ministry focus was in the Amazon jungle of Ecuador, making more than 100 trips to the area and planting two new churches. They have started 7 Bible schools in Ecuador. Their passion is to encourage and train pastors, teachers and raise up disciples for the equipping of the Body of Christ in Spanish-speaking countries, and as called.
Lauren and Lee are serving on staff at Lakewood Church in Branson West, Missouri. Lauren is a licensed pastoral counselor, teacher and missionary. Lee serves as an usher and travels, promoting and serving in their missions ministry.
They reside in Branson, Missouri.